Manchester House
Located on the first 2 floors of Tower 12 in Spinningfields, arguably the funkiest restaurant in the city. Opening in late 2014, The Lounge has the ambiance being part of a movie star's luxury home during a dinner party and The Restaurant is reminiscent of a house party on an eccentric film set.
Avalanche
Located just off of Albert Square this Italian trattoria focuses on fish and seafood dishes. Executive Chef John Thompson brings an international twist to classic Italian dishes with touches of Mediterranean and modern British cuisine. Convenient for all of the theatres making it a popular pre-theatre choice it has two VIP private dining rooms and three bars.
Sakana
The Japanese phrase Sakana refers to food eaten as an accompaniment to alcohol. This Pan-Asian restaurant seats 240 and offers stylish street food, traditional classics from the regions and contemporary gastronomic morsels in its two restaurants across two floors. The ground floor area centres around a large atrium above the open kitchen; featuring with two teppanyaki sections, a robata grill and a fresh sushi bar, the gallery restaurant upstairs offers Pan-Asian fine dining.
James Martin Manchester
Celebrity chef James Martin brings this stunning restaurant to the Manchester 235 casino. With only the finest ingredients locally sourced and in season foods are offered in typical James Martin style, featuring superb British dishes with outstanding desserts.
Ocean Treasure 235
An exceptional Chinese restaurant located in the Great Northern Warehouse, part of the Manchester 235 Casino. Since its opening in late 2009 it has received outstanding reviews and accolades. A predominantly Cantonese menu, with deference to healthy eating principles, with delicious dim sums, seafood and vegetarian options, Ocean Treasure is widely regarded as the top Chinese restaurant.
Vermilion
An Asian fusion restaurant with strong Thai influences close to the City of Manchester Stadium in Miles Platting, this is a truly stunning restaurant. Visually stimulating with strong references to spectacular movie set images it is an experience that cannot fail to impress and then there's the food!!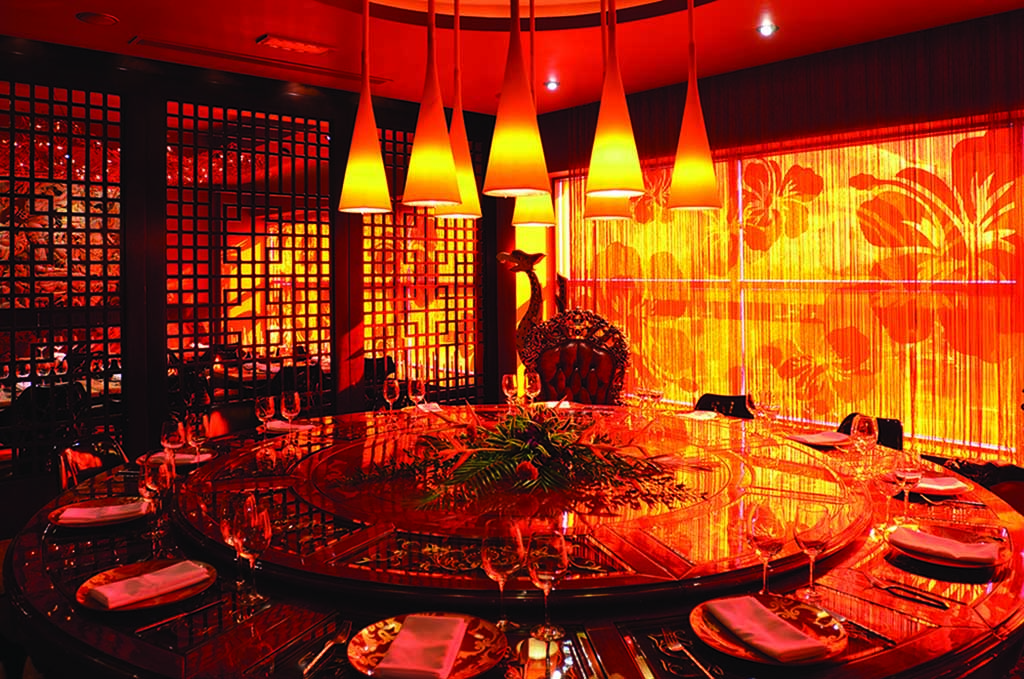 Australasia
An extremely chic Pacific Rim restaurant delivering a superb choice of sushi, sashimi and tempura dishes. Combining modern Australian cuisine with Asian flavours based upon European cooking styles, this is fusion of Indonesian and South East Asian influences and the close ties between Australia and Japan are apparent. Entering through a glass pyramid on Deansgate, the restaurant is beneath the Armani store in Spinningfields.
Damson Media City
A 140 cover restaurant with the accent on British fine-dining it is located in Media City from where you can enjoy great views of The Lowry and the Imperial War Museum North and Old Trafford across an adjacent footbridge. A menu that offers excellent choice, with exceptional desserts and superb service.
Mr Cooper's House and Garden
A plethora of different dining areas under one roof, this exceptional casual fine dining restaurant delivers remarkable value-for-money in a unique setting inside the plush Midland Hotel with a garden, a 30ft tree and a living wall of plants. It is also renowned for some of Manchester's most inspiring cocktails.