Atlas, Deansgate
Located in the old railway arches on Deansgate, the Atlas bar outdoor terrace represents one of the hidden jewels of Manchester and has recently been refurbished. The terrace is lush with exotic plants, chic shrubbery and plenty of seating catering for up to seventy people.
Hanging Ditch, Deansgate
Sitting in the shadow of Manchester Cathedral this bar is run by a wine merchant and boasts of its excellent range of wines, which come from individual producers with prices should be available within everyone's budget. The outdoor seating area is perfect for watching the world go by, even more so as recently the area directly to the front has been pedestrianised and affords a view across Greengate bowl and fountains.
Alchemist Spinningfields
Not necessarily for drinking beer but rather for sipping their quirky cocktails and enjoying the recently re-furbished interior. The year round outdoor is attractive with outdoor seating, giant parasols and heat lamps for cooler evenings or in fact throughout the year. Also on New York Street.
Manchester House, Spinningfields
With the choice of the top terrace or the restaurant terrace to sit out from, private booking are needed to reserve seats. However at midweek the 12th floor Lounge and terrace are available to all and draw office workers who are eager to wind-down after work with a beer or a cocktail if you prefer. The extensive views over Manchester are worthy of a long look.
Rain Bar, Great Bridgewater Street
The large areas of decking to the rear of the Rain Bar are hugely popular with customers where groups of people assemble after work or meet up with friends around the benches and tables. Serving genuine pub grub, with free wifi and a function room for pre-arranged larger groups meeting up.
The Old Grapes, Little Quay Street
This is one of many of the city's pubs that offers extensive outdoor seating. Moments away from the old Coronation Street set, The Old Grapes was once owned by The Street's Liz Dawn
Missoula, Deansgate Locks
A great place to chill out, sitting on the decking next to the locks with special mid-week and weekend meal deals offering down to earth bar food and pub grub favourites. Or, to simply enjoy a drink in a great location.
Sinclairs Oyster Bar, Manchester
Close to the Cathedral, this is one of Manchester's oldest bars, combining an amazing setting with reasonably priced drinks and with large areas to sit outside, do a little people watching while you enjoy a pint and you can puff a ciggie too.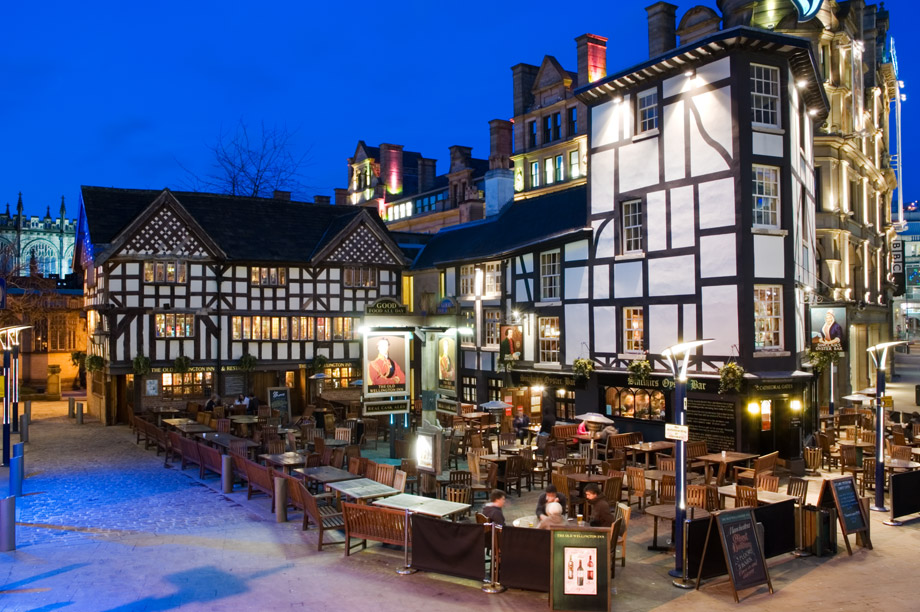 The King's Arms, Bloom St. Salford
A cultural hub, just off Chapel Street in Salfordboasts great real ale and proper pub food. Inside the pub offers lots of atmosphere but outside is the beer garden, providing slightly random furniture and a lively atmosphere that attracts crowds from the locality and further afield.
Montpellier's – Northern Quarter
Montpellier's is a restaurant bar with an authentic rustic French ambiance that offers a great atmosphere. Great place to relax after a long and stressful day in the office when you can take on board a glass of wine or split a bottle with a friend. Watch football on the gig screen, or enjoy a meal with your wine at this excellent and friendly bar in the Northern Quarter.
Epernay – Watson St. Manchester
Epernay Champagne Bar is the place to go if you are looking for a touch of luxury in your life, wanting to celebrate or just want to experience the world of champagne and get to know a lot about the subject from the well informed staff. With rare and vintage champagnes on offer you will leave feeling completely indulged.
Evuna – Northern Quarter
This is the sister to Evuna Deansgate with an equally impressive wine list of fine Spanish wines. You can relax 0on your way home with a glass or two, or, take a bottle home with you. A smaller version of the Deansgate Evuna, this is rustic in character and more intimate.
Bakerie – Northern Quarter
This is a wine bar with a truly extensive wine list numbering over 70 varieties, located in the Northern Quarter; you will be able to enjoy the perfect bottle with your freshly baked meal. Next to the main restaurant area is the wine store and the wine school which offers wine tasting and wine tutorials for you or you and a group of like-minded friends. These include discounts, free samples and a whole load of wine knowledge and discovery on offer.
Corbiere's – Half Moon St. City Centre
Somewhat difficult to find but well worth the effort. Wind your way down some steps to this underground bar, which does get quite warm and is also renowned as possessing the best jukebox in Manchester. This may well be defined as a hidden gem, and with its excellent reputation it attracts a lot of dedicated followers.
Grinch – Chapel Walks City Centre
This is a favourite destination for lovers of wine, where there is a great selection, live Jazz and Soul music add to the atmosphere on a Saturday night and some tasty food is on offer too. Happy Hour is from 5pm until 10pm (7pm on Saturdays) each and every day where you take advantage of a bottle of house wine for just £12.50. A great early evening opportunity!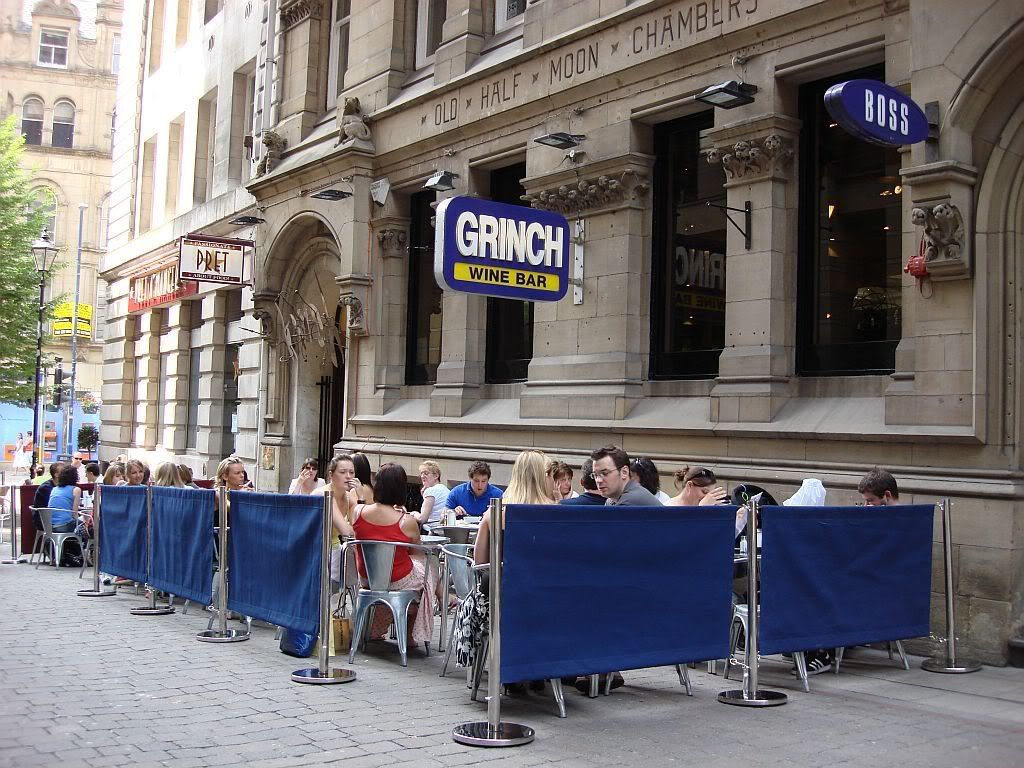 Bar San Juan – Chorlton
The Bar San Juan in Chorlton offers some excellent Spanish hospitality in one of the most bijou and more interesting spots in the city. There is such a following that it is packed in the evenings with standing room only; so it's an idea to get there earlier in the day to tuck into some delicious Tapas accompanied by a bottle of San Juan's Spanish wine list, or a beer if you prefer.
Salut – Cooper St. City Centre
A great place for post-work drinks, there are no full meals on offer but there is a tasty range of tapas plates and snacks which makes it ideal for a little lunch. With Enomatic machines it means that wine by the glass is available over 32 varieties.
Wood Wine and Deli – Northern Quarter
This wine bar a nice relaxed place to hang out after a busy day at work. A simple concept with the genuine smell of wood and wine, an intimate atmosphere with a great menu of charcuterie and excellent breads. There is a fine wine selection too.