Well, Manchester is a vibrant city with handful selection of amazing things to do while visiting. Here, we have included top 5 exciting things to do for spending your day delightfully in Manchester.
San Carlo Cicchetti
Being filled up with sparkling, high-end eatery tucked into the ground floor of the House of Fraser, it offers full English efforts despite its Italian heritage.
Located in a sophisticated and relaxing interiors, San Carlo Cicchetti provides the delightful Venetian culinary customs of Cicchetti, delicious small plates of dishes to share with friends or eat alonne and enjoy the day with a beer or a glass of wine.
On a seasonal basis, Ciccetti launches an exclusively crafted menu. While it's still retaining its new favorites, the new dishes are the still from the frsh and best seasonal ingredients sourced from the markets of Milan. With having an Italian chairman, Italian director, Italian chefs, Cicchetti is a genuine and authentic Italian restaurant.
Market Street
It shows off some of the most talented and innovative goals around Manchester. This shopping gateway always make buzz with the top calss performers and street artists.
Being a prime high street shopping area in Manchester, it is an abode to Manchester Arndale, Primark and other well-know shops. Wander around this lively venue to enjoy the shows of performers, buskers as well as the street artists.
The Avenue in Sppingfields
In fact the stylish glass and steel environment host the flagships from the hiend retail like Mulberry, L.K. Bennett and Emporio Armani.
Manchester Town Hall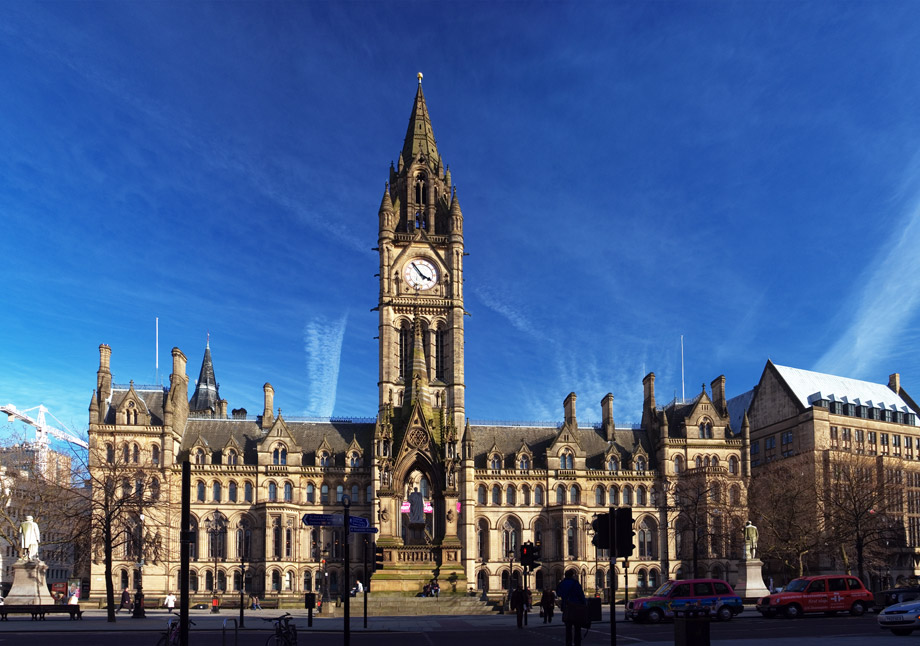 Put an end to the day by touring an authentic Manchester classic. This is an outstanding building, which was designed in Victorian Gothic style by Alfred Waterhouse and was founded in the year of 1877. Among all of its hidden treasures are the Ford Maddox Brown murals; which are the monument to the innovative ideas of Victorian Manchester by portraying invention, science, education, trade and textile industry.
Among all the excellent rooms inside the Town Hall are the Sculpture Hall, which contains statues of reputable Manchester figures from the earlier days and the Great Hall; that features a glazed skylight which is in inscribed with the names of every mayor, lord mayor and chairman of the council since 1838.
Be sure to have a glimpse of the mosaic patterns of bees on the foor located outside the Great Hall. Moreover, the bee symbolizes the Manchester's industry and features on the city's coat of arms.
Make sure you look out for the mosaic pattern of bees on the floor outside the Great Hall.