Even if pubs and bars are shutting down across the Britain at an alarming rate, still there are some popular ones that continue to entertain visitors and locals alike. They are valued a lot not just for drinks and entertainment but also for the image and sanctity of a self-respecting public place. The famous pubs in Manchester city are seen savoring delicious food, serving a wide range of alcoholic drinks, providing finest quality entertainment and comedy programs and just proving a nice place to have after work drinks, afternoon beer or for overindulgence at night. All of them seem to be brining relaxation and peace to many.
Are you looking for a great place for a night out in Manchester? A couple of drinks and music you want to enjoy? Maybe you are looking to hard hit on the dance floor, but you are not getting the right place to visit? We have come up with a list of five of the most famous pubs and bars in the Manchester City that will help you get entertained the best! So, go and Enjoy!
The Kings Arm Pub in Chapel Street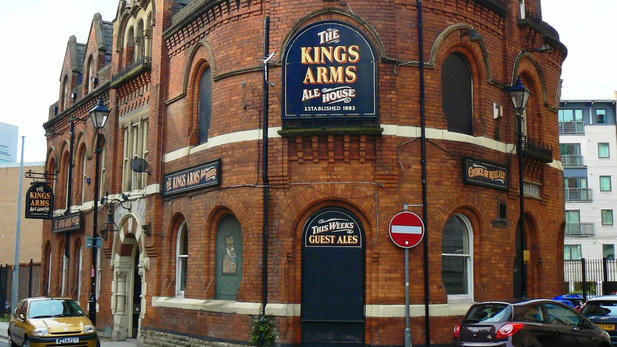 Owned and managed by earlier gorgeous and lead singer of South and Housemartins, Paul Heaton, this fully entertaining pub is located slightly off Chapel Street, 100 metres far from Salford Central station and a 10 minute walking distance from Deansgate, Manchester. It reflects a fascinating blend of both new and old styles. Some of its features go back to Victorian age and range from marvelous tiled floor and woodworks to well carved wood and huge space for cathedral- esque performance on the top floor. The Kings Arms is a music spot, pub and theatre complete with artist's studios. You will find it to be a bit more than your regular boozer.
The Marble Arch pub on Rochdale Road
The Marble Arch pub is famous for Marble brewery which is itself an institution in Manchester. It was the long and first bar of the Marble family with eleven hand pulls that give out both hand crafted and foreign beers on demand. If you are dreaming about a pub that would satisfy your booze oriented mind you will hardly able to find a perfect place than the Marble Arch. So, visit it to enjoy your drinks within wonderful tiled walls and well designed pub floors which remind you of earlier time. Additionally get access to major selections of liquors, lagers and ales and food that go past standard menus in pub.
The Parlour in Richmond Street Manchester
Keeping the veracity of an historical building while also trying to infuse something modern into it is a difficult act, but the owner of  another famous pub – The Parlour have made it possible. The location itself symbolizes something of a treasured history, with many short lived tenants, such as The Nose and Marmalade, but the couple of Jamie and Goska Langrish have successfully led this pub towards opulence.